Original writings from Beyond
by Mike
by Robert
by Thomas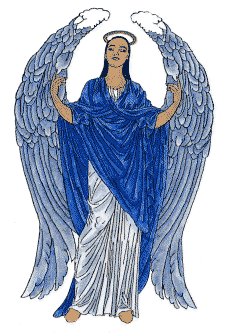 Song of Light
I go with the wind.....on a journey to the Light,
distant, shimmering, brilliant white.
Moving through darkness...lost and alone,
further and further into the unknown.
So afraid...I tremble and quail,
Bemoaning my fate, I whimper and wail.
And I'm falling, falling down, down into the nether.
I empathize now.....as I couldn't before,
Petty wrongs I choose to ignore.
For, always, I was kind, with a gentle, loving heart.
I gave of myself to others and always did my part.
Now I put all this behind me....It was only for me to see.
I lived, I loved and I learned.
That's why life was given to me.
Bathed in my own forgiveness..........
washed clean and filled with love,
I soar now through the heavens
to the beautiful Light above.
And The Light asks......
""Beloved child, will you come unto me?""
Then my heart knows the essence of ""yes""......
a wonderful, thrilling peacefulness,
I know not how to express.
In The Light.....is a part of me I left so long ago.
It has been here waiting for me, while I lived a life below.
I am happy.....
and with a sigh of ecstasy I give unto The Light the all of me.
Now I am and shall ever be
with The Light,
distant, shimmering, brilliant white.
by Joan Kirk 1977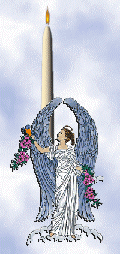 Keep a candle burning for each and everyone of us, here and Beyond
All graphics by Joan Kirk, who left for the other world on 25 August 1999
and is now with The Light.
Copyright 1998 AngelicArtistry