My paramour was loneliness.


My paramour was loneliness,
And lying by the sea,
Soft songs of sorrow and distres,
He did beget in me.

Later another lover came
More meet for my desire
"Radiant Beauty"was his name,
His sons had wings of fire.




Kashmiri Song

Pale hands I loved beside the Shalimar,
Where are you now? Who lies beneath your spell?
Whom do you lead on rapture's roadway far,
Before you agonise them in farewell?

Oh, pale dispensers of my Joys and Pains,
Holding the doors of Heaven and Hell,
How the hot blood rushed wildly through the veins,
Beneath your touch, until you waved farewell.

Pale hands, pink tipped, like Lotus buds that float
On those cool waters where we used to dwell,
I would have rather felt you round my throat,
Crushing out life, than waving me farewell.
To Aziz: Song of Mohammed Ahram

Your beauty puts a barb into my soul
Strive as I will it never lets me go
My love has passed the frontiers of control
You are so fair and I desire you so.

Others may come and go, they are to me
But changing mirage, transient, untrue
My faithlessness is but fidelity
Since I am never faithful, but to you.

You are not kind to me, but many are
And all their kindness does not make them dear
It may be you deceive me when afar
Even as always, you torment me near.

Yet is your beauty so divine a thing
So irreplaceable, so haunting sweet
Against all reason, I am fain to fling
My life, my youth, myself beneath your feet.

I asked of a desolate, shipwrecked soul-
Wouldst thou rather never had met
The one whom thou lovest beyond control,
And whom thou adorest yet? -

Back from the senses, the heart, the brain,
came the answer swiftly thrown-
What matter the prize, I would pay it again,
We have had, we have loved, we have known -
Men should be judged

Men should not be judged
By their tint of skin,
The Godís they serve
The vintage that they drink,
Nor by the way they fight, or love, or sin
But by the quality of thought they think
Au Salon
A sky intensely blue, a low white wall
Against it heaps of up-blown yellow sand.
A sleeping figure, holding in her hand
Some scarlett cactus blossom; that was all.
And yet so mellowly the sunbeams fell,
Upon the sun burnt limbs, such subtle play
Of rosy light and tender shadow lay
Upon the upturned face, that all could tell,
An artist painted with a poet's eyes;
And warmly an enthusiastic glow
Ran through the groups that critisised below.
While one, who gazed with pleasure and surprise
Said, and I do not think he said amiss:
"He was her lover, when he painted this!"
Illusion

Thinking you had a heart, that love could break
A lovely, gentle soul that might awake
I held you tenderly, for eitherís sake
And showed you nothing but loveís ecstasy.

Now, though you have no heart to melt or burn
No soul to wonder, meditate or yearn
Your beauty is a fact; be still and learn
Something of passionate loveís intensity.
To Aziz
Ay thou art fair; I know that beauty well.
Have I not longed for it as those in Hell
long for release?
Thou wouldst be kind to me, but when I craved
Such kindness in the days it could have saved
thou didst not cease
To torture me, Aziz, and now that Fate
Has brought me what so long, I so desired,
It is too late.
I am too tired.
Ashore
Out I came from the dancing place
The night-wind met me face to face.
A wind of the harbour, cold and keen,
"I know " it whistled, "where thou hast been"
A faint voice fell from the stars above,
"Thou whom we lighted to shrines of Love!"
I found when I reached my lonely room
A faint sweet scent in the unlit gloom.
And this was the worst of all to bear,
For someone had left white lilac there.
The flower you loved, in times that were.
Among the Sand hills
Lie still beloved, I also see the day
Shoot his white arrows through the trembling sky,
But what is dawn to us, who cast away
All sense of time that mars our ecstasy.
The scented orange bushes check the breeze
Granting in tribute many waxen stars,
And aromatic Eucalyptus trees
Defy the sun with great green simitars.
Since Fate has given us this garden love,
And Time and Space, for once, have acquiesied,
Ah, take no heed of paling skies above,
Let us deem night is with us yet, and rest.
Let us lie still and drift away in dreams,
Back to the jewelled kingdom of the night,
Whose golden stars with dimly radiant gleams,
Lit up your loveliness for my delight.
Once we are risen, all the cares of day
Will seize and bind us to their wanton will.
Why should we own that night has passed away?
Oh, as you value love, lie still, lie still!

Dedication to Malcolm Nicolson
I, who of lighter love wrote many a verse,
Made public never words inspired by thee,
Lest strangers' lips should carelessly rehears
Things that were sacred and too dear to me.
Thy soul was noble; through these fifteen years
Mine eyes familiar, found no fleck nor flaw,
Stern to thyself, thy comrades' faults and fears
Proved generosity thine only law.
Small joy was I to thee; before we met
Sorrow had left thee all too sad to save.
Useless my love--as vain as this regret
That pours my hopeless life across thy grave.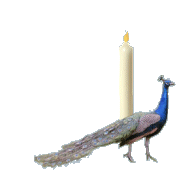 Keep a candle burning, for all of us,
here and Beyond.
Harriet 2000 2001